Computer Science for All
During his office, President Obama announced the initiative—Computer Science For All—designed to bring computer science education to every student in the US. Here at CodeHS, we're excited that the White House has put their support behind computer science education!
Computer Science For All is driven by the same belief that drives CodeHS: Read, Write, Code. Coding is a new foundational skill, and we must equip our students with a basic understanding of coding to succeed in our technology-driven economy.
President Obama is calling for over $4 billion dollars in funding for states and school districts to make it happen. Watch his video announcement here:
CSforAll 2017 Summit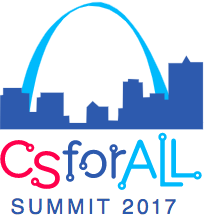 Thanks for all those who visited and attended the CSforAll Summit with us!
St. Louis, Missouri (October 16-17th, 2017) – On October 17th, CodeHS attended the 2017 CSforAll Summit to celebrate and announce their newest initiative, focusing on expanding computer science programs across rural districts in Missouri. Through their newest initiative, CodeHS is committed to opening the door for every student in Missouri to learn coding, regardless of their background or area code.
What does this mean for your school?
It's time to bring computer science to your school! It's more clear than ever how important it is to teach computer science and CodeHS can help your school make that happen now. Over the past few years, awareness of the importance of computer science education has skyrocketed. Through the Hour of Code, ~195 million students have gained an awareness of coding. It's time to build on that momentum and keep students excited, engaged, and learning computer science--now with the extensive help and support of the President.
Interested in bringing computer science to your school? Tell us about your school by requesting a quote and we'll get in touch!
Get in Touch
Learn More
You can find out more about the Computer Science Initiative by reading the post from the White House blog. Follow the link below to learn more.
White House Blog Post