Professional Development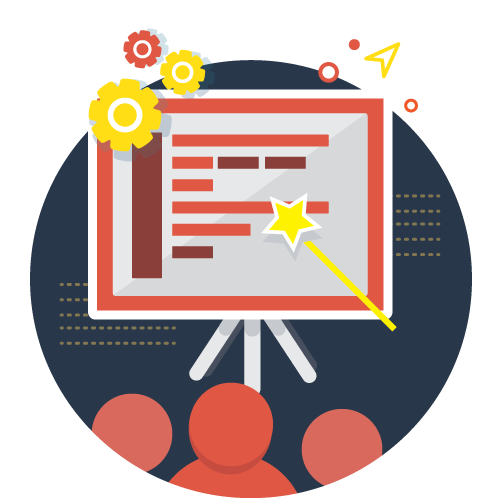 Many schools want to start offering computer science courses, but do not have the teacher capacity to do so. Further, hiring experienced teachers who have a background in programming is difficult.
With the CodeHS professional development courses, we'll help train teachers at your school to teach excellent computer science courses--no programming experience required. We've worked with hundreds of new computer science teachers, empowering them with the skills, pedagogical knowledge, and confidence to go into the classroom and start teaching great computer science courses. Teachers rate our online PD course a 9/10!
Online Professional Development
CodeHS offers online professional development courses that are made up of a series of learning modules that cover both the basics of programming and the pedagogy of teaching programming in a blended classroom. Teachers can complete it on own time, during summer, school professional development days, or school holidays--this means that teachers receive the training and PD support they need in a far more flexible way, saving teachers time and districts money.
Learn More
In-Person Professional Development
CodeHS offers in-person professional development workshops for districts that are looking to train multiple computer science teachers. Workshops can be 1 or 2 days, and cover a variety of topics including leveraging blended tools in computer science classes, subject specific topics, how to customize your class using the CodeHS platform, and more. Each summer we also host free professional development seminars in cities across the US.
Learn More
Who is it for?
CodeHS Professional Development is designed for passionate teachers who are interested in teaching computer science, but do not necessarily have a background in programming. No experience is required to take professional development with CodeHS. Our professional development can also help computer science teachers who are looking to expand their course offerings to include higher-level or AP computer science courses.
Our training can also be for people who are experienced programmers but have not taught in the classroom before. The focus on pedagogy of teaching computer science and leveraging the blended classroom make CodeHS professional development an extremely helpful experience for new teachers.
Earn PD Graduate Credit
Teachers who complete CodeHS online professional development have the opportunity to earn graduate university credit from St. Catherine University! Learn how you can earn graduate credit today.
PD Testimonials
"This has been very challenging and addictive. I think our students will find it to be the same!"
Faith Pack, Shelby County School District
"It's a great course, I really got a lot out of it. I just love the format! Feedback has been super fast and helpful. … I am really enjoying CodeHS. FYI - everyone keeps saying - why not use Khan Academy or code academy? ... And I keep telling them CodeHS has the materials to support the teacher and the class!"
Ginger Raspiller, Cape Elizabeth High School
"I am very impressed with the summer course offering for new teachers and all the assistance and guidance your curriculum comes with. For a new teacher of coding it is super relieving to see that level of support."
Justin Bourque, Concord High School
"I really enjoyed this course. It forced me to sit down and work through the problems in Karel myself so that I would have a solid foundation in CodeHS. I liked that I could work at my own pace and that if I had a problem, I knew I would get a timely response. I also liked that I would get feedback/grades in a timely manner as well. Overall, this professional development course was very thorough and disimminated information in multiple ways. I liked the mix of videos, examples, exercises, and handouts."
Amy Fox, Shelbyville High School
"It's fascinating! The way you guys have laid out the course is just brilliant!"
Diane Godfrey, Aspen Middle School
See more teacher Testimonials