In-Person Professional Development
School District Professional Development Workshops
CodeHS offers in-person professional development that prepares teachers to run successful computer science classes. In our trainings, teachers will learn programming skills, effective pedagogy, and best practices for teaching computer science in a blended classroom. CodeHS is able to adapt and customize trainings to make sure we are meeting the needs of your district and the experience level of your teachers.
With our on-site training, CodeHS will visit your school or district and lead one-day or two-day workshops to provide teachers the professional development they need to start strong and maintain successful computer science classrooms throughout the year. Send us an email at hello@codehs.com for more information.
Get In Touch
Free In-Person PD Seminars in Summer 2018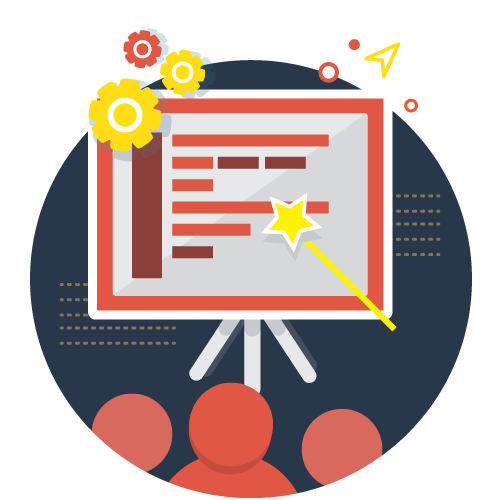 CodeHS is hosting free in-person professional development workshops around the US in summer 2018.
Seminar Locations:
| Location | Date | |
| --- | --- | --- |
| Bay Area, CA | June 27, 2018 | Apply |
| New York, NY | July 30th, 2018 | Apply |
| Portland, OR | June 21, 2018 | Apply |
| Chicago, IL | June 19, 2018 | Apply |
| Salt Lake City, UT | June 12, 2018 | Apply |
Depending on interest from schools and teachers, we may add seminars in other cities as well.
Sponsors
Thank you to AWS for sponsoring the NYC PD Workshop!
Amazon Web Services
Frequently Asked Questions
What should I bring?
Laptop and laptop charger
When should I arrive?
Please arrive 15-30 minutes before the workshop starts to check-in.
Please email the workshop lead if you have any question the day of the event.
Salt Lake City, Utah: Brett@codehs.com; (801)686-7792
Chicago, Illinois: Lea@codehs.com; (815)258-7043
Portland, Oregon: Will@codehs.com; (203)213-4786
San Francisco, California: Erin@codehs.com; (415)812-0996
New York, New York: Alex@codehs.com; (347)249-9594
What is going to be covered during the PD?
You can find a full agenda for the PD here Some of the highlighted topics that we will be covering are How to Teach a Blended Classroom, Learning Debugging Strategies, Differentiation and Coding, as well as an Overview of CodeHS and Exploring the Curriculum Pathway.
Do I need to have a CodeHS account
No, although having one already will make it easier for you to jump right in to the PD! You can create an account by going to https://codehs.com/signup/teacher. If you don't have time to create one beforehand, there will be time during the PD to set up an account.
Does it cost money to create an account on CodeHS?
No, teachers can sign up free of charge! You even have access to all of our curriculum for free so you can use right away with your students.
How much teaching experience do I need in order to participate?
This PD is designed for teachers of all levels of experience. Whether you are brand new to teaching or have been in the classroom for 20 years, this PD will provide you with teaching strategies, content, and resources that will help you refine and strengthen your teaching practice.