K-12 Curriculum Pathway
CodeHS has partnered with Kodable to provide districts with a comprehensive course pathway spanning grades K-12.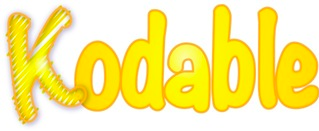 Curriculum Overview
Students learning computer science through the Kodable and CodeHS K-12 pathway will learn foundational skills in computer science preparing them for the next step in their learning, whether that is taking an additional course or pursuing computer science in college or career.
With Kodable's standards-based K-5 curriculum, students start by learning how to identify code as a language and how to apply algorithms to complete computational tasks. By the end of elementary school, students will be able to read, modify and write scripts to change what happens in programs.
In grades 6-8, students learning with CodeHS will continue to solidify logical thinking and problem solving skills, while transitioning from block programming to typing-based coding. At the high school level schools can offer students the opportunity to learn professional programming languages such as Javascript, Python, HTML,CSS, Java and more.
K-12 Pathway Table
What is CodeHS?
CodeHS is a comprehensive teaching platform for helping schools teach computer science. We provide web-based curriculum, teacher tools and resources, and professional development. By leveraging CodeHS' web-based platform, teachers can access all of the tools they need to teach great middle school or high school computer science courses, all in one place. CodeHS also provides tools to help districts scale course pathways across grades 6-12, helping administrators track data and gain insights needed to manage large scale rollouts.
What is Kodable?
Kodable is a complete K-5 curriculum taking students from learning to think like a programmer in Kindergarten to writing real JavaScript by 5th grade. Kodable's curriculum is aligned to K-5 standards which are a roadmap for developing the whole student through computer science. Kodable provides easy to follow lesson plans focused on student outcomes so teachers can teach their students to code, no computer science knowledge required.
Contact Us
For more information on how you can start or expand a K-12 computer science program with CodeHS and Kodable, get in touch at codehs.com/learnmore.