CodeHS for Districts
CodeHS has experience working in hundreds of school districts across the country to help start and expand computer science programs. Whether your district is just starting to offer its first coding course and wants to expand to more schools, or has been teaching computer science for a while and wants to build out a full pathway, our comprehensive computer science platform and experienced team will help you take your CS program to the next level.
Tools and Insights for Administrators
We understand that to manage implementations across multiple schools, or entire districts, administrators need software tools that provide them with clear, actionable data. While you might not be able to be in every classroom at once, CodeHS Insights allows district admins to track student progress and activity, and helps you compare classrooms across your district. With CodeHS Insights, you'll leverage your time and can access the data you need to help expand your CS program to an additional school or district-wide.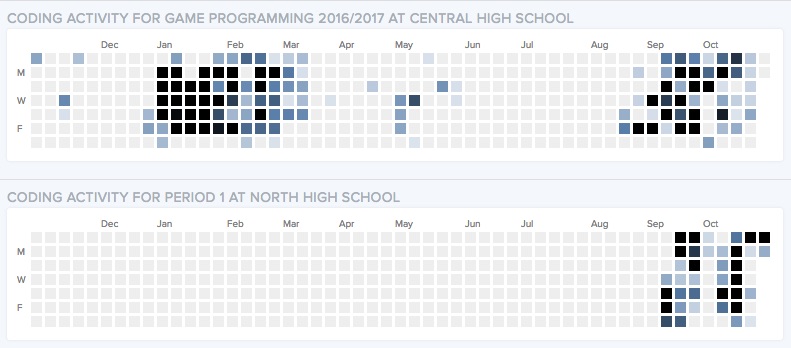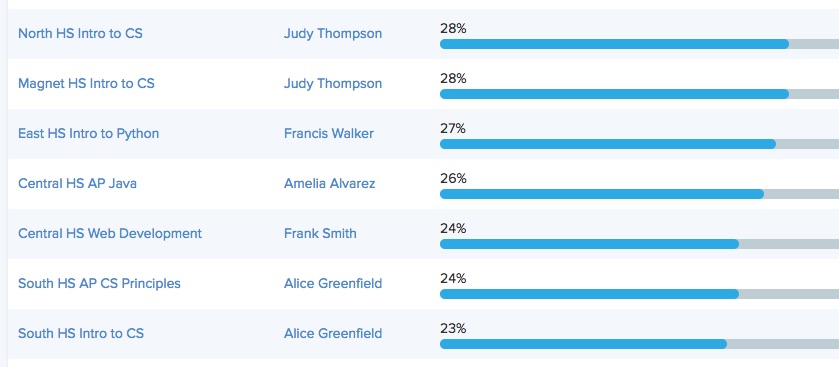 6-12 Course Pathways
A key part of many district admins' jobs is designing comprehensive and cohesive course pathways. With our 6-12 course pathways, you can offer a ton of different CS courses across your middle and high schools. Our offerings range from Intro through AP, beginner through the most advanced. We are constantly adding new courses to our pathways, so if you don't see a course on CodeHS that your district is interested in offering, reach out and let us know, chances are we're already working on it!
Learn More
Teacher Professional Development
Having worked with thousands of teachers from all different backgrounds, we recognize that teacher professional development is a key to success for any district computer science program. Our PD offerings are geared toward all different types of teachers, whether they are a business teacher who has never written a line of code, or an experienced teacher gearing up to teach their first AP CS class. Best of all, teachers take CodeHS PD in an online, flexible, 1-on-1 environment. This flexibility allows them to develop their skills as a CS teacher according to their own schedule, saving them time and saving district funding by avoiding costly travel and expenses from in-person PD days.
Learn More
Implementation Support
Providing outstanding support to our schools and districts is at the core of our work at CodeHS. We understand that rolling out a new program across a district is not easy, and we are here every step along the way. Throughout training, onboarding and implementation we work closely with district administrators to customize an implementation plan for your unique district. Throughout the school year districts have a dedicated team that they can turn to, a team that is accountable to you and to making sure your program is successful. We understand that curriculum and tools are important pieces of the puzzle, but we also believe that supporting teachers and administrators is a crucial aspect of all successful programs.
What Sets CodeHS Apart for Districts?
CodeHS is the most comprehensive solution for teaching computer science across grades 6-12. With our robust suite of software tools, extensive course pathways, flexible teacher PD and outstanding support, we are confident that CodeHS is an unmatched solution for districts looking to start or expand their computer science programs.
We look forward to the opportunity to work together to help achieve your computer science vision. If you're interested in learning more about how CodeHS can help your district, send us an email at hello@codehs.com and we'd love to connect!