Intro to Computer Science in JavaScript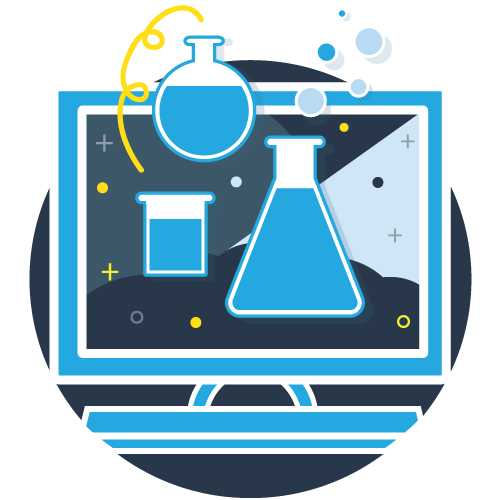 The CodeHS introduction to computer science curriculum teaches the foundations of computer science and basic programming, with an emphasis on helping students develop logical thinking and problem solving skills. Once students complete the CodeHS Introduction to Computer Science course, they will have learned material equivalent to a semester college introductory course in Computer Science and be able to program in JavaScript.
Format
The entirely web-based curriculum is made up of a series of learning modules that cover the fundamentals of programming. Each module is made up of short video tutorials, example programs, quizzes, programming exercises, challenge problems, and unit tests. The course is designed for a year long class that meets 5 days per week, though schools implement it in a variety of ways.
Who is it for?
The Intro to Computer Science in JavaScript course is designed for complete beginners with no previous background in computer science. The course is highly visual, dynamic, and interactive making it engaging for new coders.
Meet Your Instructors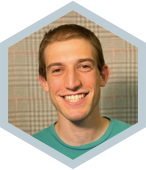 Jeremy Keeshin
As co-founder of CodeHS and previous computer science TA at Stanford, Jeremy has helped to teach thousands of students how to program.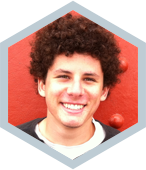 Zach Galant
Zach started a camp in High School to teach video game creation to middle schoolers and then helped teach CS at Stanford.
What do you Learn?
Students learn the fundamentals of programming with an emphasis on problem solving and logical thinking. Topics covered include: graphics, animation and games, data structures, and more.
Here is a breakdown of the important programming skills that students will develop concepts that they will learn about by working through the CodeHS curriculum:
Module
Description

Programming with Karel:

Teaches what it means to "program" and allows students to focus on solving problems using code, rather than getting bogged down in syntax. Students solve problems by moving Karel the Dog around the grid.

Basic JavaScript and Graphics:

Introduces the basics of JavaScript, including variables, user input, control structures, functions with parameters and return values, and basic graphics, how to send messages to objects.

Animation and Games:

Watch graphics come to life! Teaches how to make objects move around the screen and how to let the user interact with programs using the mouse. At the end of this section, students will program their own video game.

Project - Breakout:

Students apply the skills they have learned in the Animation and Games module in this culminating project. Students are encouraged to extend the project to incorporate their own creative additions to the game using the skills they have learned in the module.

Basic Data Structures:

Introduces lists/arrays, maps/objects, sets, and grids. These are the essential basic data structures that any program will use.

Project - Tic Tac Toe

Students apply the skills they have learned in the Basic Data Structures module in this culminating project. Students are encouraged to extend the project to incorporate their own creative additions to the game using the skills they've learned in the module.

Game Design Components

Walk through the creation of the classic Helicopter game one step at a time.
Demos
Visit our demos page to view some of the programs that students will create while completing this course.
View Demos
Testimonials
"My students love it! They are engaged, they can work at their own pace. It's awesome!"
Courtney Moore, Teacher, Battle Mountain High School
"The students say the class is "fun, fun, fun" and that the class period is too short."
Ellen Kohrs, Teacher, Sea Crest School
"CodeHS has been a game-changer in my Intro to Programming class for 9th graders. The students have been much more engaged and motivated since we started using CodeHS"
Tom Simpson, Teacher, Heathwood Hall Episcopal School
"I truly believe the site is the most interactive way to teach programming!"
Seth Nilson, Teacher, Sentinel Peak High School
Read More Stories
Course Flavors
On our Pro plans, we have different Course Flavors available. Course Flavors means that you get exactly the right version of our course for your school, classroom, and students.
Here are our Course Flavors for Intro to Computer Science in JavaScript:
| Course Flavor | Description |
| --- | --- |
| Introduction to Computer Science (Golden) | This is the main CodeHS Intro to Computer Science course in JavaScript. This is a first computer science course that teaches the fundamentals of coding. This is the current school year course for 2016-2017. |
| Introduction to Computer Science (Bulldog) | This is the honors version of the CodeHS Introduction to Computer Science course in JavaScript. This is geared for advanced high school students as a first programming course. |
| Introduction to Computer Science 2015-2016 (Spaniel) | This is the main CodeHS Intro to Computer Science course in JavaScript. This is a first computer science course that teaches the fundamentals of coding. (From 2015-2016 School Year) |
| Introduction to Computer Science 2014-2015 (Labrador) | This is the Intro to Computer Science Course in JavaScript from the 2014-2015 school year. |
To find out the right Course Flavor for your class contact your Account Manager or contact us at hello@codehs.com.
Sample Resources
Here are a few examples of teacher resources and materials to use in the Introduction to Computer Science in JavaScript course.
Syllabus
Take a look at our syllabus for teaching an Introduction to Computer Science in JavaScript class with CodeHS.
View Syllabus
Sign Up
Sign up for a teacher account to get access to curriculum, teacher tools and teacher resources.
Teacher Signup
Sign up as a student if you are in a school and have a class code given to you by your teacher.
Student Signup