AP® Computer Science A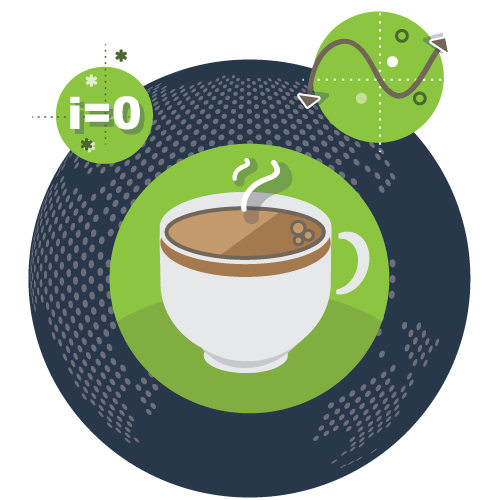 The CodeHS AP® Computer Science A course is a year-long course designed to help students master the basics of Java and equip them to successfully pass the AP® Computer Science A Exam at the end of the school year. All learning materials and resources teachers and students need for a successful year-long AP® Computer Science A course can be found on the CodeHS website. The curriculum has been pre-approved by College Board's AP Course Audit as meeting or exceeding the curricular expectations colleges and universities have for this subject.
Endorsed Curriculum and Professional Development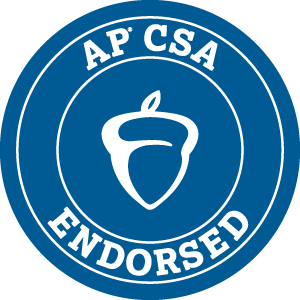 Endorsed Provider is recognized by the College Board as an endorsed provider of curriculum and professional development for AP®️ Computer Science A (AP CSA). Using an Endorsed Provider affords schools access to resources including an AP CSA syllabus pre-approved by the College Board's AP Course Audit, and officially recognized professional development that prepares teachers to teach AP CSA. This endorsement affirms only that components of Endorsed Provider's offerings are aligned to all the AP Curriculum Framework standards and the AP CSA assessment.
Format
The entirely web-based curriculum is made up of a series of learning modules that cover the fundamentals of programming. Each module is made up of short video tutorials, example programs, quizzes, programming exercises, challenge problems, and unit tests. Students write and run Java programs in the browser using the CodeHS editor. The course is designed for a year long class that meets 5 days per week, adding up to over 100 hours of hands-on programming practice in total.
At the end of each unit, students take a summative multiple choice unit quiz in the style of the AP Exam that assesses their knowledge of the Java concepts covered in the unit. Included in each lesson is a formative short multiple choice quiz. The course also provides an AP Test Practice unit with a cumulative AP Practice Multiple Choice Test and several Free Response questions.
Who is it for?
The AP® Computer Science A course is a fast-paced, AP level course. While there are no official prerequisites for the CodeHS AP® Computer Science A course, we recommend that students take our Introduction to Computer Science prior to AP® Computer Science A. Students who have completed our Intro to CS course will be able to apply knowledge of concepts covered in the Intro course to the more advanced setting of the AP® Computer Science A course.
Earn Scholarships via RaiseMe

RaiseMe is a platform that helps 9-12th grade students prepare for college by earning micro-scholarships for their achievements in high school. With over 250 colleges and universities offering RaiseMe scholarships, CodeHS is excited to partner with RaiseMe to provide students on CodeHS unparalleled opportunities to earn scholarships.
Any CodeHS student who completes the AP® Computer Science A course can submit their coursework on RaiseMe.com to earn scholarships for their hard work!
AP Exam
This course will prepare students for the multiple choice and free response question AP® Computer Science A examination. Each lesson comes with quizzes to test essential knowledge for the AP Exam. Each unit includes a cumulative AP style multiple choice exam to test understanding of the concepts in the unit, as well as practice FRQ problems to familiarize students with the format of the exam.
What do you Learn?
Module
Description

Primitive Types:

This unit introduces students to the Java programming language and the use of classes, providing students with a firm foundation of concepts that will be leveraged and built upon in all future units.

Using Objects:

This unit builds on students' ability to write expressions by introducing them to Math class methods to write expressions for generating random numbers and other more complex operations.

Boolean Expressions and If Statements:

This unit focuses on selection, which is represented in a program by using conditional statements.

Iteration:

This unit focuses on iteration using while and for loops and introduces several standard algorithms that use iteration.

Writing Classes:

This unit focuses on identifying appropriate behaviors and attributes of real-world entities and organizing these into classes.

Arrays:

This unit focuses on data structures, which are used to represent collections of related data using a single variable rather than multiple variables.

ArrayList:

In this unit students will learn about ArrayList. ArrayList object has a dynamic size, and the class contains methods for insertion and deletion of elements, making reordering and shifting items easier.

2D Array:

Students will learn about 2D Arrays. The same concepts from ArrayLists will be implemented with two-dimensional (2D) arrays in this unit.

Inheritance:

In this unit, students will learn how to recognize common attributes and behaviors that can be used in a superclass and will then create a hierarchy by writing subclasses to extend a superclass.

Recursion:

In this unit, students will learn how to write simple recursive methods and determine the purpose or output of a recursive method by tracing.
View Syllabus
Demos
Students will be able to create programs like these after completing the CodeHS AP® Computer Science A course:
Battleship
Mad Libs
Pokemon
Testimonials
"We are using codehs in our programming course, so far it is phenomenal. My students are very engaged and are learning a full load. We are trying out the AP Java curriculum. I am a first year programming teacher and this really has helped me understanding the scope and sequence of an accelerated curriculum."
Ivan Martinez
Teacher, Central Catholic High School
"
I'm probably in a unique position as far as my AP CS A class goes. I have 16 students total and 9 of them are girls!! One of my girls, who also takes my 4th Hour Adobe Photoshop class finished her Photoshop quiz, and asked if she could work on her 7th period AP CS A stuff!! She is loving the coding!!! And most of my other girls are, too!! Woohoo!!!
Christina Swanson Griffin
Teacher, Lincoln Preparatory School in Grambling, Louisiana
"
"If we're not using CodeHS next year, I'm not teaching CS next year. ... CodeHS does everything for me."
Tammy Newsom
Teacher, Amarillo ISD
"
CodeHS gives me all of the resources I need in order to teach AP Computer Science A. The lessons and exercises are great for a flipped classroom. The ability to create quizzes and tests on the site is useful, and the ability to have students write their own code in the Sandbox for assignments that I give them during class makes it a one-stop place for Java!
Mariel Schneggenburger
Teacher, Southern Cayuga 1-12 Secondary School in Aurora, New York
"
Read More Stories
Course Flavors
On our Pro plans, we have different Course Flavors available. Course Flavors means that you get exactly the right version of our course for your school, classroom, and students.
Here are our Course Flavors for AP® CS A:
| Course Flavor | Description |
| --- | --- |
| AP® Computer Science A (Nitro) | This is the standard CodeHS AP® Computer Science A Course and fully aligns to the unit sequence from College Board. It teaches the main method and objects first. |
| AP® Computer Science A (Mocha) | This is the standard CodeHS AP® Computer Science A Course and aligns to the AP CS A standards framework. It teaches objects later in the course and uses the CodeHS run method. |
| Introduction to Java (Latte) | This is an introduction to the Java programming language but is not meant to prepare for the AP® CS A exam. |
To find out the right Course Flavor for your class contact us at hello@codehs.com.
Interested?
Interested in teaching AP® Computer Science A with CodeHS? Tell us more by requesting a quote and we'll get in touch!
Get in Touch
See Short Demo
Sample Resources
Here are a few examples of teacher resources and materials to use in the AP® Computer Science A course.
AP® CS A Review Course
This course will help you review for the AP® Computer Science A Exam. It includes autograded practice exercises on all main concepts, as well as full practice AP Tests. Send this link to your students to get started.
Start AP® CS A Review
Labs
Our AP® CS A Labs offer challenging projects in a variety of topics. All of these labs can be run in the web browser -- even on Chromebooks!
AP® CS A Labs
AP® and Advanced Placement® are registered trademarks of the College Board. Used with permission.