Resources
Why CS?
Code is the Language of the Future
Every app, every web page, every new piece of technology we use relies on programmers to help create it. The same way that we want all students to have an understanding of English, Math, History, and the Sciences, we should want our kids to develop digital literacy because, today, code forms the building blocks of our world!
Develop Critical Problem Solving Skills
Computer science teaches students important critical thinking skills that can be applied outside of the digital world. Computer programming involves learning to break down big problems into smaller parts, thinking of creative solutions, and communicating clearly.
Prepare Students for Jobs of the Future
There are not enough programmers in the world to keep up with the number of brilliant ideas that people want coded. By the year 2020 there will be over 1,000,000 unfilled jobs in computing and related fields. Learning to code is an invaluable skill to have in today's tough job market.
Be a Leader: Bring Coding to Your School
By bringing computer science to your school, you will teach your students a foundational skill, provide them critical problem solving tools and prepare them to graduate high school ready to succeed in college and the working world beyond. Join CodeHS today to bring computer science to your school!
Stats/Facts
At the high school level, computer science is one of the most understudied, underrepresented academic subjects in the United States today. At the same time, the need for students to graduate high school with programming skills and a computer science way of thinking is at an all time high. Below are some facts and gures which highlight the need for America's high schools to adopt computer science curriculum on a large scale. These statistics drive CodeHS in our mission to introduce high schoolers to the incredible world of computer science.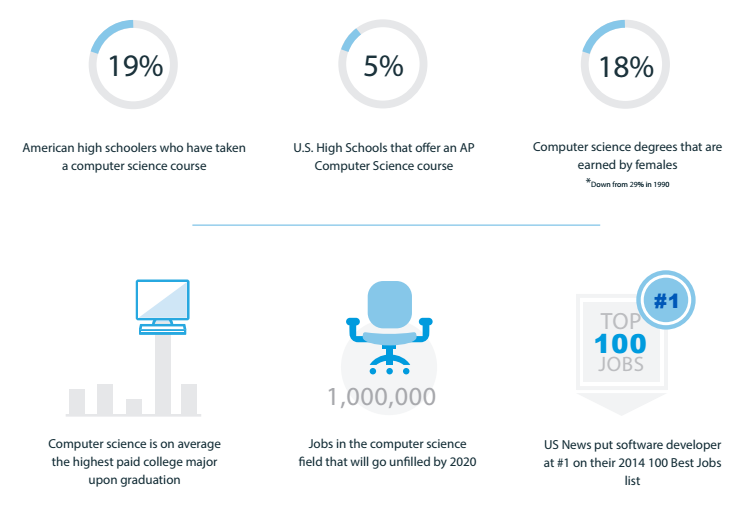 Demos
Visit our demos page to view some of the programs that students will create while completing our courses.
View Demos
Tutors
We encourage teachers to work through the CodeHS curriculum to understand what their students will be learning. CodeHS tutors are on hand to provide feedback and support as the teachers work through course materials, ask questions, and submit exercises.
Meet the Tutors
Apply to be a tutor
Computer Science for All
President Obama recently announced a new initiative--CS For All--designed to bring computer science education to every student in the US. Follow the link below to learn more about the initiative and what this means for you.
Learn About CS for All