In this course, students will examine the core concepts and terminology of cybersecurity and information assurance, integrating the importance of user involvement, network architecture, threats, and security; operational and system security; cryptography, and a broad range of other topics all through the CodeHS web-based platform. This is a yearlong course that is designed for beginners to intermediate computer science students with at least some knowledge and interest in computer science.
Syllabus
Units: 17
Timeframe: Year
Contact Hours: 130
Units
Unit
Description

What is Cybersecurity?:

Students explore the basics of cybersecurity. Students will learn about why cybersecurity is important, recent threats to cybersecurity, and different careers in the field.

Digital Citizenship and Cyber Hygiene :

Students learn about Internet etiquette and how to stay safe on the world wide web. Students also look at the potential effects of our digital footprints, how to protect information from online risks, and the implications of cyberbullying. Finally, the module includes how to find and cite quality resources online.

Project: Public Service Announcement :

For this project, students create a Public Service Announcement (PSA) to teach their peers about digital citizenship and cyber hygiene. Students can select any of the topics covered so far.

The ABCs of Cryptography :

Students dive into the history of cryptography systems, the motivation behind using encryption systems, and basic cryptography systems. Additionally, students explore topics on how to use cryptography, cryptology, and cryptanalysis to decode a message without the use of a key.

Advanced Cryptography:

In this module, you will apply advanced principles of cryptology. This includes explaining the core concepts of Public Key Infrastructure and hash functions. You will explore concepts of encrypted email, digital certificates, and private key certificates. You will also take a look at the different types of SSL certificates, the chain of trust and how a Certificate Authority (CA) works.

Project: Steganography:

In this project, you will explore steganography and create your own encryption algorithm to conceal and hide a message within the pixels of an image!

System Administration:

Students compare and contrast common operating systems (Windows, Linux, OS) and explain the importance of application security. Students investigate security options and implement user accounts to enforce authentication and authorization. Students also demonstrate how to work with basic and advanced command prompts.

Cyber Defense:

Students learn what happens when running a web application and how to look inside web apps using developer tools, source code, and more. Students learn basic SQL and common attacks like SQLi, and by the end of the module, students will be able to recommend solutions for flawed security systems.

Project: Security Assessment Report :

In this project, students work as a consultant to a (fake) reputable company. They are tasked with testing the company's website for SQL injection and writing a security assessment report based on your findings.

Networking Fundamentals :

Students explore the structure and design of the internet and networks, and how this design affects the reliability of network communication, the security of data, and personal privacy. Students learn how the Internet connects computers all over the world by using networking protocols.

IT Infrastructure:

Students learn about the physical elements of computers and networking, such as motherboards, RAM, routers, and the use of port numbers, ethernet, and wireless devices.

Project: Troubleshooting :

In this project, students explore the troubleshooting methodology and utilize it to solve sample IT support issues.

Risk Management :

In this module, you will demonstrate skills in conducting vulnerability scans and recognizing vulnerabilities in security systems. You will conduct a security audit and examine port scanning, packet sniffing, and proxy servers to discover exploits in a system. You will also be able to recommend security measures to mitigate the vulnerabilities.

Final Exam :

Students are assessed on topics learned throughout the course.

What's Next? :

Students will explore the different pathways available to learn more about cybersecurity upon completing this course.

Introduction to Cybersecurity Pretest :

Introduction to Cybersecurity Posttest :
Demos
Click on a demo to test it out.

Phishing Simulator

Social Media Cleanup

Password Hacking: Brute Force

Improving Vigenere

Local Storage Exploration
Resources
Here are a few examples of teacher resources and materials to use in the South Carolina Cybersecurity Fundamentals course
Format of Course
The entirely web-based curriculum is made up of a series of learning modules that cover the fundamentals of cybersecurity. Each module is made up of short video tutorials, quizzes, real world connections, simulations, open response reflections, challenge problems, and unit tests. The course is designed for a year long class that meets 5 days per week, though schools implement it in a variety of ways.
Who is it for?
The South Carolina Cybersecurity Fundamentals course is designed for complete beginners with no previous background in computer science. The course is highly visual, dynamic, and interactive. There are no prerequisites for this course, and the course is recommended for students in Grades 9-10.
Cybersecurity Certifications
CodeHS offers a Cybersecurity Level 1 Certification that aligns with the South Carolina Cybersecurity Fundamentals course. CodeHS Certifications provide industry-valued credentials to help students build necessary skills for the workplace.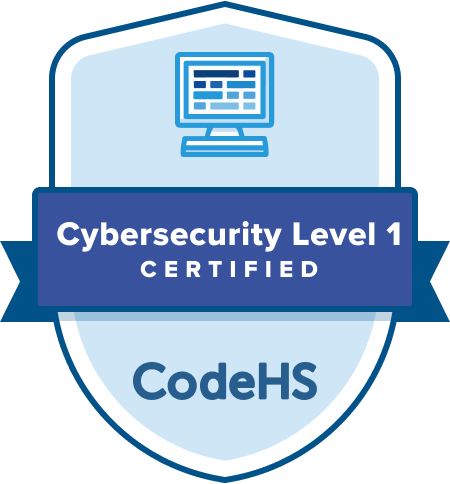 Learn how to bring the Cybersecurity Level 1 Certification Exams to your school.
Professional Development
CodeHS offers an online professional development course that aligns with South Carolina Cybersecurity Fundamentals, Teaching Cybersecurity. In this course, teachers will gain the skills, pedagogical knowledge, resources, and confidence to lead a great cybersecurity class with CodeHS.
Learn more about our professional development.
Learn More
Interested?
Interested in teaching the South Carolina Cybersecurity Fundamentals course with CodeHS? Get in touch, so we can help you bring CodeHS to your school!
Bring to My School
Standards
South Carolina Cybersecurity Fundamentals is aligned with the following standards