Teaching Intro to Computer Science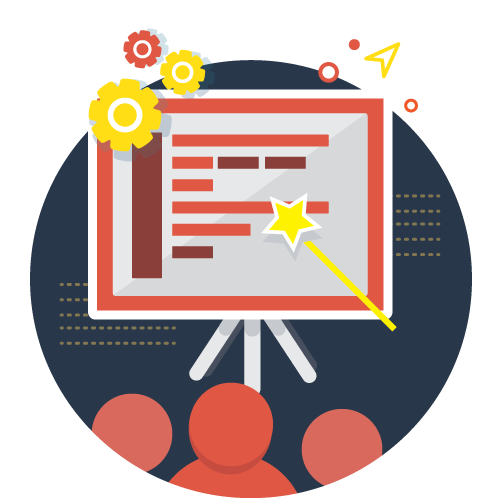 Many schools want to start offering computer science courses, but do not have the teacher capacity to do so. Further, hiring experienced teachers who have a background in programming is difficult.
With the CodeHS online professional development course, we'll help train teachers at your school to teach excellent computer science courses--no programming experience required. We've worked with hundreds of new computer science teachers, empowering them with the skills, pedagogical knowledge, and confidence to go into the classroom and start teaching great computer science courses. Teachers rate our online PD course a 9/10!
Format
Our professional development course is offered entirely online and is made up of a series of learning modules that cover both the basics of programming and the pedagogy of teaching computer science in a blended classroom. Each module is made up of short video tutorials, programming exercises, open-ended responses, debugging problems, and grading practice.
The course is high-touch, with teachers receiving personalized feedback and support from our PD team after completing each activity. The course takes approximately 30-40 hours. Teachers can complete it on their own time, during summer, school professional development days, or school holidays.
Who is it for?
The CodeHS Online PD is designed for passionate teachers who are interested in teaching computer science, but do not necessarily have a background in programming. No experience is required to take the professional development course.
The course can also be for people who are experienced programmers but have not taught in the classroom before. The focus on the pedagogy of teaching computer science and leveraging the blended classroom format makes the online PD an extremely helpful experience for new teachers.
What do you learn?
The online PD covers both the basics of programming as taught through the CodeHS Intro to Computer Science course as well as pedagogy of teaching computer science in a blended classroom, including a focus on teaching and learning debugging.
Here is an outline of the modules:
Module
Description

Welcome:

In this first module we give you an overview of the professional development course. We introduce a few key principles and ideas for teaching computer science, and give you a chance to set goals and expectations for how to make the most out of this course.

Programming with Karel:

Module two is programming with Karel. Karel is a dog that only knows how to move, turn left, and place tennis balls in his world. You can give Karel these commands to instruct him to do certain things. We use Karel to show you what it means to program, and allow you to focus on problem solving.

Teaching Programming with Karel:

In this module we'll go over teaching the basics of programming. We will go through concept by concept and explain ways to teach in the classroom, how to grade these problems, and how to debug these problems.

Using CodeHS Effectively:

In this short module you will gain an understanding of what CodeHS brings to your classroom, and learn how to use the CodeHS platform effectively.

Effective Debugging Strategies:

Learn effective debugging strategies in this module. Debugging is one of the most important skills to develop both for your own programming and for grading others' code. We'll identify common coding errors and learn how to address them.

Teaching a Blended Coding Class:

The final module dives into the blended classroom environment. We'll discuss best practices and helpful approaches for incorporating online learning in traditional classroom settings.
What will happen when you sign up?
First, we'll get you enrolled in the course and schedule a welcome call with a member of our PD team who will learn about your plans and goals for teaching computer science in order to foster the best learning experience for you. You'll create a timeline to complete the course. As soon as you're enrolled, you can jump in and start working through the online modules.
Earn PD Graduate Credit
Teachers who complete Teaching Intro to Computer Science on CodeHS have the opportunity to earn graduate university credit from St. Catherine University! Learn how you can earn graduate credit today.
PD Testimonials
"This has been very challenging and addictive. I think our students will find it to be the same!"
Faith Pack, Shelby County School District
"It's a great course, I really got a lot out of it. I just love the format! Feedback has been super fast and helpful. … I am really enjoying CodeHS. FYI - everyone keeps saying - why not use Khan Academy or code academy? And I keep telling them codeHS has the materials And I keep telling them CodeHS has the materials to support the teacher and the class!"
Ginger Raspiller, Cape Elizabeth High School
"I am very impressed with the summer course offering for new teachers and all the assistance and guidance your curriculum comes with. For a new teacher of coding it is super relieving to see that level of support."
Justin Bourque, Concord High School
"I really enjoyed this course. It forced me to sit down and work through the problems in Karel myself so that I would have a solid foundation in CodeHS. I liked that I could work at my own pace and that if I had a problem, I knew I would get a timely response. I also liked that I would get feedback/grades in a timely manner as well. Overall, this professional development course was very thorough and disimminated information in multiple ways. I liked the mix of videos, examples, exercises, and handouts."
Amy Fox, Shelbyville High School
"It's fascinating! The way you guys have laid out the course is just brilliant!"
Diane Godfrey, Aspen Middle School
See more teacher Testimonials
Interested?
Interested in learning how to teach Intro to Computer Science with CodeHS? Tell us more by requesting a quote and we'll get in touch!
Get in Touch
Sign Up
Sign up for a free teacher account to get access to curriculum, teacher tools and teacher resources.
Teacher Signup
Sign up for a school administrator account to get access to curriculum and a section tracking dashboard.
Admin Signup
Interested in teaching with CodeHS? Get in touch, so we can help you bring CodeHS to your school!
Learn More