Mobile Apps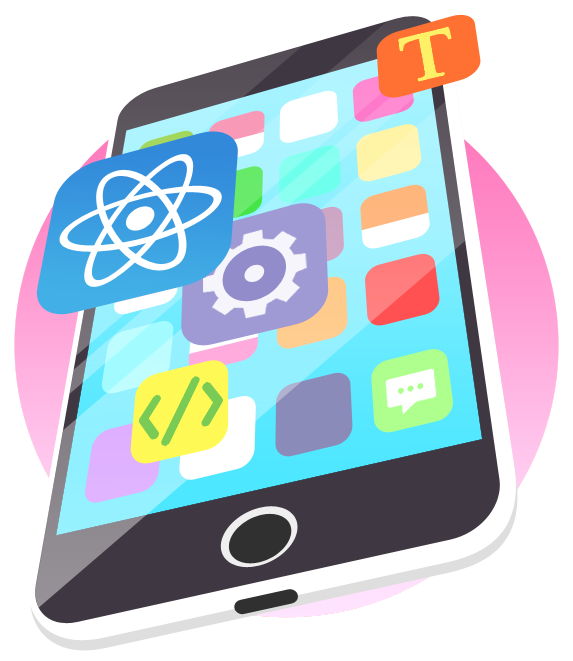 It is estimated over the last year that mobile internet usage surpassed desktop internet usage for the first time [1]. Mobile applications are becoming increasingly important to our consumption of media, news, social interaction, and learning. In this course, students will learn how to create mobile apps using React Native, a popular platform-agnostic framework.
As an online blended high school course, students will design and build applications to run on their own smartphones and will use the latest tools and technologies available for mobile app development. Students will learn about the fundamentals of building mobile apps with React Native, mobile app structure, using the various components for user interaction, and the basics of custom functionality all through the CodeHS web-based platform.
Format
The entirely web-based curriculum is made up of a series of learning modules that cover the fundamentals of building mobile applications with React Native. Each module is comprised of short video tutorials, quizzes, example programs, programming exercises, challenge problems, unit tests, and end of unit projects. The course is designed for a year long class that meets 5 days per week, though schools implement it in a variety of ways.
Who is it for?
The Mobile Apps course is designed for high school students who have taken Introduction to Computer Science with JavaScript or who have experience with JavaScript. We offer semester and year-long versions of the course.
What do you Learn?
Below is a summary of the material covered in each unit:
| Unit | Description |
| --- | --- |
| | Introduction to Mobile Apps: Students are introduced to mobile apps and the React Native app library. They learn what mobile apps are, how to run them on a smartphone, and what they will be building throughout the course. |
| | Introduction to React Native Components: Students learn the foundations of React Native syntax, file structure, and the core components including Text, Images, Button, Scrollviews, Text Input and more. Students learn how to add components to their application, customize them, and render them on their personal smartphones. |
| | Stylesheets and Layouts: Students learn the basics of mobile app layouts and styling using the React Native Stylesheet Application Program Interface (API). Students gain insights into designing a mobile application and adding style to the components learned in the previous module. |
| | Using Functions to Bring Your App to Life: Students learn about defining functions to allow for more custom and personalized component interaction. Students learn about the structure, syntax, and reasons for custom functions and add multiple pages to their mobile applications. |
| | Introduction to Props and State: Students learn about the power of component properties (props) and about adding state changes to their apps to add speed, flexibility, and scalability to their apps. Students use props to customize their apps and state changes to alter the appearance and functionality with the touch of a button. |
| | Bringing It All Together: Students apply the various topics learned in previous modules to design and build a custom app. Students use multiple components and functions to enable custom functionality and design. |
Sign Up
Sign up for a teacher account to get access to curriculum, teacher tools and teacher resources.
Teacher Signup
Sign up as a student if you are in a school and have a class code given to you by your teacher.
Student Signup