Coding + Sports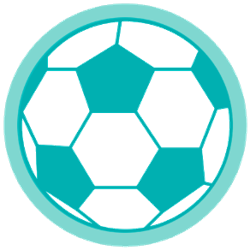 Coding + Sports is a mini-course that introduces students to the basics of coding through sports! In this block-coding course, students develop their own sports video games and simulations using code. Throughout the course, students build different sports visualizations and multi-level games that can be played with friends.
Format
The entirely web-based curriculum is made up of a series of learning modules that cover the basics of creating sports programs. Classes can complete the entire mini-course, or individual lessons in the form of playlists. Each lesson should take a single one-hour class period. The entire course should take about 10 hours.
Every lesson is made up of short video tutorials, example programs, quizzes, programming exercises, challenge problems, and unit tests. Students write and run programs in the browser using the CodeHS editor.
Programming Environment: Students write and run sports programs in the browser using the CodeHS editor. These experiences will be hosted on the CodeHS website so that they can keep a running portfolio of their creative projects, and easily share their programs with the world.
Who is it for?
Coding + Sports mini-course can be taught as a standalone course or alongside one of our other computer science courses. This course is designed to be an exploratory course that introduces students to coding. Teachers do not need programming experience to teach these units, but they should be willing to explore and learn to code alongside their students.
What do you Learn?
Below is a summary of the material covered in each unit:
Module
Description

Introduction to Coding in Sports:

Students are introduced to the JavaScript block coding environment. Students curate the environment of their own sports video game.

Coding in Sports:

Students learn about event handlers and create more elaborate video games with images, sound, and multiple levels. As a final project, students make a multi-level putting game.
Try Out the Course!
Enroll in the full course and try it out for yourself!
View Full Course
Sign Up
Sign up for a teacher account to get access to curriculum, teacher tools and teacher resources.
Teacher Signup
Sign up as a student if you are in a school and have a class code given to you by your teacher.
Student Signup